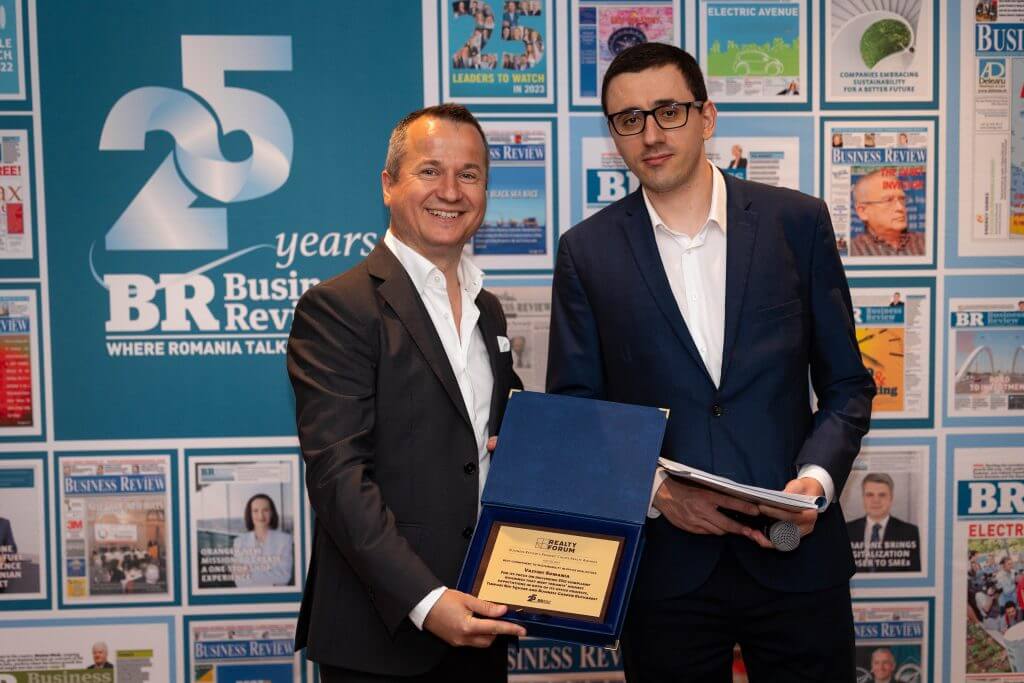 With pride and excitement, Vastint Romania announces that it has been honored to receive the prestigious "Best Commitment to Sustainability in Office Real Estate" award at the Readers' Choice Realty Awards 2023. It is a recognition of our deep commitment to the projects in which we operate. It also confirms the high importance we place on the environment in all our office buildings. For us, sustainability is not just an option, but a core value in our mission. In doing so, we want to build the future in a responsible way, with respect for communities and the planet.
"Vastint Romania's focus on delivering ESG-compliant office buildings that exceed tenant expectations in projects such as Timpuri Noi Square and Business Garden Bucharest sets a new benchmark for sustainability in office real estate."
Readers' Choice Realty Awards Ceremony
On 20 July, the landmark event called Realty Forum 2023 took place, bringing together leaders from the Romanian real estate industry. The forum was an opportunity for specialists to come together and discuss the outlook for the sector at country level.
One of the most anticipated moments of Realty Forum 2023 was the second edition of the prestigious "Business Review Readers' Choice Realty Awards". The special moment recognized and applauded excellence, highlighting companies that have made outstanding contributions to the market. Awards were a clear demonstration of the professionalism and commitment to quality, innovation and sustainability.
What are the Business Review Readers' Choice Realty Awards?
The event brought to the fore innovative projects, visionary leaders and strategies that have made a positive impact in the industry. The Business Review magazine organises an annual awards ceremony. What's more, they are dedicated to recognizing and celebrating excellence in the Romanian real estate sector.
It also featured fierce competition and a jury of magazine readers. The Readers' Choice Realty Awards aim to identify and reward companies and projects that have brought innovation, quality and commitment to sustainability to the sector. As such, they are a mark of validation of professional efforts to contribute to a better and more sustainable future.
Vastint and the commitment to a responsible working environment
The Readers' Choice Realty Awards 2023 therefore confirms our commitment to building efficient buildings. We have assumed to integrate responsible practices into every project. This recognition motivates us to continue to be leaders in promoting a strong future. In addition, we want to actively contribute to creating an environmentally friendly space. Our commitment to sustainability remains strong. Accordingly, this title is a confirmation of our vision for a more sustainable and efficient environment.