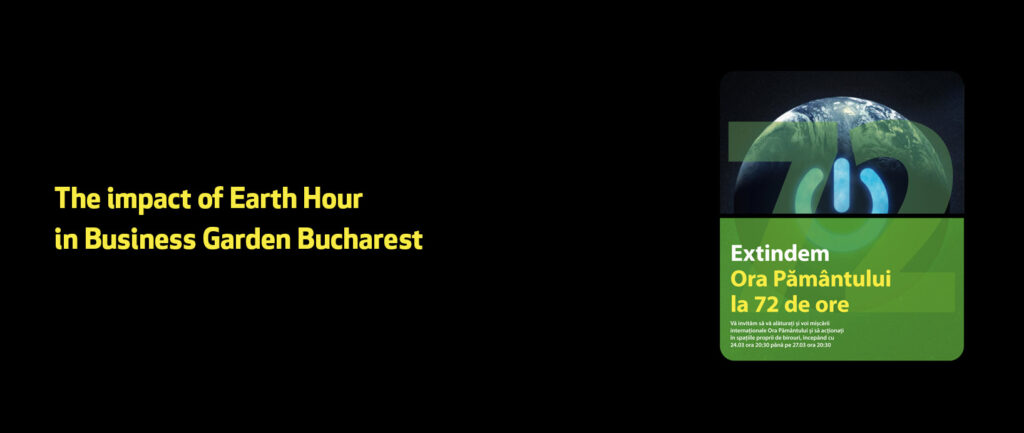 The Earth Hour event originally started in Sydney, Australia on 21 March 2007 through the World Wide Fund for Nature initiative. Today, the event is organised in over 190 countries. The first event attracted 2.2 million participants, with lights switching off for an hour, reducing energy consumption in Sydney by between 2.1% and 10.2% in the first hour. 
The identity of the company developing the Business Garden Bucharest project is marked by values of sustainability and efficiency. Thus, measures are constantly taken to preserve and protect the planet's natural resources. That is why the Earth Hour event has been extended for 72 hours, with Vastint office buildings actively involved in the movement. 
For three full days, starting on Friday 24 March at 20:30PM and ending on Monday 27 March at 20:30PM, Vastint buildings participated in the Earth Hour movement by: 
– reducing the intensity of the lights, and therefore the electricity consumption in each of our building receptions; 
– completely switching off the video screens in the lobbies on the ground floor of each Business Garden Bucharest building; 
– the lighting of the Vastint and Business Garden Bucharest logos on the project buildings has been turned off. 
During Earth Hour, Business Garden Bucharest managed to save 5,350 kWh of electricity. This performance demonstrates the commitment of the project and the developer Vastint Romania to environmental protection. 
To better understand the importance of this, we can make the following comparisons:  
– The amount of energy saved would be sufficient for the annual electricity consumption of three households in Romania.  
– It would be needed to charge 107 electric cars.     
– We can also compare the energy saved with the annual production of 11 solar panels.  
In addition, by reducing energy consumption by 18% during the 72 hours, Business Garden Bucharest has proven to be a leader in sustainability and environmental protection. Choose the place where your employees will enjoy all the facilities needed for a prosperous and friendly environment!